Secure Password Manager

$29.95

Never forget a username or password again - ever
Secure and backup your passwords, credit card numbers, registration codes, PINs, and more
Generate truly random passwords hackers cannot guess
Protect yourself from identity theft, keyloggers, and phishing
Best selling password manager with over 500,000 users
New! SplashID 4 for Windows Mobile


Filter records quickly with the on-the-fly Lookup field




Tree View provides an alternative view of your records

Enhanced secruity features such as password hint and lock-out

Select unique passwords with our generator's strength meter
"SplashID is my Fort Knox for passwords and confidential records -
I don't know how I lived without it." Now even more secure.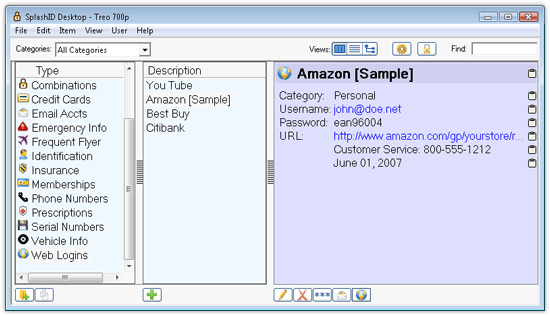 Included SplashID Desktop for Windows (only) lets you easily view and edit your sensitive personal information on your desktop computer and synchronize with your Handheld.


Now includes 2 additional views - Panel View (above) and Tree View!
| | |
| --- | --- |
| Tree View | List View |
Key Features:
Enhanced security - auto lockout after 10 failed attempts, password strength meter, and password hint option
Web Auto Fill - one click to open a website on the desktop and login automatically! Prevents keyloggers from tracking your username and password.
Synchronize multiple SplashID databases (with other version 4 database files only)
Enhanced Lookup feature instantly displays relevant results as you type
Email and share securely encrypted SplashID files to other users
Toolbars give you button features where they are needed the most
Updated icon set with enhanced high resolution graphics
Fully Vista compatible
Unlimited number of customizable record types and categories for storing all kinds of confidential information (usernames, passwords, bank accounts, credit cards, registrations, insurance, perscriptions, and more)
Synchronize data between your BlackBerry and your desktop PC using the included desktop software
Password protection, using 256-bit Blowfish encryption, keeps your data safe
Automatic password generator - for generating random hacker-safe passwords based on user criteria
Complete backup and restore feature
Set URL field in your records to deliver you to the correct address every time -- completely defeats phishing

Buy now for $29.95 - get SplashData's 60-day money back guarantee

Or click here to download a 30-day trial version

Awards:
2006 Handango: "5 Stars"
2006 PalmGear.com: "5 Stars"
2006 Tucows.com: "5 Cows"
2006 Handango Champion Awards: Winner "Best New Application"
2006 Smartphone & Pocket PC Magazine: Nominee "Best Software Awards"
---
Reviews:
"I tried several password "databases" before trying this in a trial. I stopped looking after this and now recommend this one to family and friends. It syncs easily, and SAVED me when my hard disk on my laptop crashed." – User from Houston, TX
"An excellent product that does precisely what it says it will do, storing confidential data in a clear, clean simple format. I have to work with various forms of confidential data, and this makes it easy to keep. I strongly recommend it." – User from Barcelona, Spain
"The more I use Splash ID the more I ask myself why I did not start using it before... Splash ID is an easy, totally customizable solution that will change the way you store your confidential information." – Augusto P. for Palm Addicts
---
Supported Windows Mobile devices:
Qtek 8010, Qtek 8020, Orange SPV C550, Samsung SGH-i300, T-Mobile SDA Music, Audiovox SMT 5600, Motorola MPx220, Dopod 515, Orange SPV C500, Sierra Wireless VOQ, Qtek 8080, Orange SPV E200, Orange SPV C600, Qtek 8100, i-mate SP5, Cingular 2125, T-Mobile SDA, Sagem myS-7, Samsung i600, i-mate Smartphone2, i-mate SP3, i-mate SP3i, Qtek 8060, O2 Xphone II, Samsung i320, T-Mobile Dash, HTC Excalibur, Motorola Q, Samsung Blackjack (i607), Motorola Q9h, Motorola Q9m
---
Other Editions Available: