SplashNotes > iPhone / iPad > Download | Purchase | Release Notes | User Guide |  FAQ
---
| | |
| --- | --- |
| Try the SplashNotes Desktop for FREE | Whether you are taking notes in class or a meeting, planning a project, keeping track of vehicles or health, or just outlining your ideas, SplashNotes is a very powerful assistant. Create outlines of any size and complexity, and turn them into checklists if you wish. Attach notes and images for quick reference. Use it on a Windows or Mac desktop computer or on your handheld, and synchronize your notes between the two. The possibilities are endless for how you can employ this application. Get organized with SplashNotes. |
"SplashNotes has made me more effective and organized at work and at home"


Create an unlimited number of outlines! Assign icons and rearrange the Outline List to your liking.



SplashNotes has a custom UI to allow non-stop entry of new bullet points and quick hierarchy editing tools.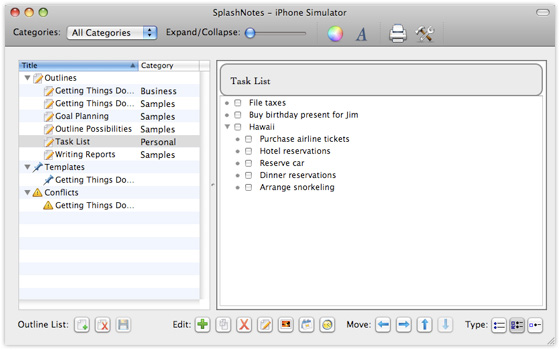 SplashNotes desktop software for Windows and Mac lets you easily view, edit and synchronize your SplashNotes data with your Handheld. Sold separately.
SplashNotes is used by:
• Busy people to stay on top of detailed to do lists

• Managers to track projects and people

• Teachers and professors to create lesson plans and monitor student progress

• Students to take fast, organized notes

• Salespeople to stay on top of clients and opportunities

• Computer support professionals to create trouble-shooting checklists

• Doctors and nurses to create and keep track of patient progress and treatment

• Anyone who wants to set goals, plan events, and generally get more organized
Buy SplashNotes on the App Store


$2.99

| | |
| --- | --- |
| | Buy SplashNotes Desktop for iPhone/iPod touch |

$9.95

SplashNotes Desktop is powerful desktop companion software that will enable you to create and edit data and synchronize it wirelessly with the handheld version (sold separately).