SplashID > Palm > Download | Purchase | Release Notes | User Guide |  FAQ
---

$29.95

- Never forget a username or password again - ever
- Secure and backup your passwords, credit card numbers, registration codes, PINs, and more
- Generate truly random passwords hackers cannot guess
- Protect yourself from identity theft, keyloggers, and phishing
- Best selling password manager with over 1 million users
---

Filter records quickly with the on-the-fly Lookup field



Tree View provides an alternative view of your records

Updated icons provide quick visual access to your records

Select unique passwords with our generator's strength meter

"SplashID is my Fort Knox for passwords and confidential records - I don't know how I lived without it." Now even more secure:


Lock your data using 256-bit Blowfish encryption security

Set a hint to remind you what that strong password might be

Password lockout after 10 failed attempts keeps you safe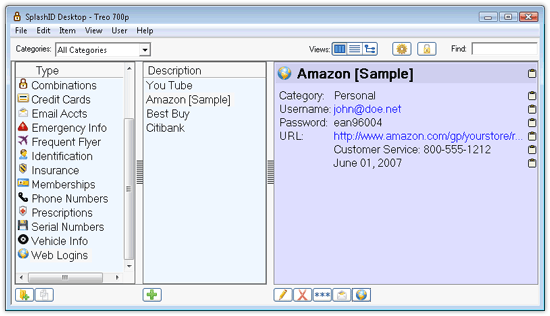 Included SplashID Desktop for Windows and Mac lets you easily view and edit your sensitive personal information on your desktop computer and synchronize with your Handheld.
Now includes 2 additional views - Panel View (above) and Tree View!
| | |
| --- | --- |
| Tree View | List View |
---
Key Features:
- Enhanced security - auto lockout after 10 failed attempts, password strength meter, and password hint option
- Web Auto Fill - one click to open a website on the desktop and login automatically! Prevents keyloggers from tracking your username and password.
- Synchronize multiple SplashID databases (with other version 4 database files only)
- Enhanced Lookup feature instantly displays relevant results as you type
- Email and share securely encrypted SplashID files to other users
- Toolbars give you button features where they are needed the most
- Updated icon set with enhanced high resolution graphics
- Fully Vista compatible
- Unlimited number of customizable record types and categories for storing all kinds of confidential information (usernames, passwords, bank accounts, credit cards, registrations, insurance, perscriptions, and more)
- Synchronize data between your handheld or phone and your desktop PC using the included desktop software
- Password protection, using 256-bit Blowfish encryption, keeps your data safe
- Automatic password generator - for generating random hacker-safe passwords based on user criteria
- Custom icon support
- Complete backup and restore feature
- Set URL field in your records to deliver you to the correct address every time -- completely defeats phishing
---
Awards:
- 2010 Appia: "5 Stars"
- 2010 PalmGear.com: "5 Stars"
- 2010 Tucows.com: "5 Cows"
- 2010 Appia Champion Awards: Winner "Best New Application"
---
Reviews:
- "I tried several password "databases" before trying this in a trial. I stopped looking after this and now recommend this one to family and friends. It syncs easily, and SAVED me when my hard disk on my laptop crashed." – User from Houston, TX
- "An excellent product that does precisely what it says it will do, storing confidential data in a clear, clean simple format. I have to work with various forms of confidential data, and this makes it easy to keep. I strongly recommend it." – User from Barcelona, Spain
- "The more I use Splash ID the more I ask myself why I did not start using it before... Splash ID is an easy, totally customizable solution that will change the way you store your confidential information." – Augusto P. for Palm Addicts
---
Supported Palm OS devices:
- Palm Treo 600, 650, 680, 700p, 755p
- Palm Tungsten T, T2, E, E2, C, W, T3, T5, TX
- Palm Centro
- Palm LifeDrive

- Palm Zire 21, 31, 71, 72, Z22
- Palm m505, m515
- Palm m125, m130
- Garmin iQue 3200, 3600
- Sony CLIE NX Series

- Sony CLIE NR Series
- Sony CLIE UX Series
- Sony TH55
- Sony CLIE NZ Series
- Sony CLIE N Series