Outliner for Organizing Your Projects, Tasks, Meetings and Ideas

$29.95
Whether you are taking notes in class or a meeting, planning a project, keeping track of vehicles or health, or just outlining your ideas, SplashNotes is a very powerful assistant. Create outlines of any size and complexity, and turn them into checklists if you wish. Attach notes and drawings for quick reference. Use it on a Windows desktop computer or on your handheld, and synchronize your notes between the two. The possibilities are endless for how you can employ this application. Get organized with SplashNotes.
"SplashNotes has made me more effective and organized
at work and at home"

Display lists with check boxes
to turn your your outline
into a task list




Customize the appearance with row colors, font size and background colors

Drag and drop lines into the folder--use it as a clipboard, drop box, or a trash can

Attach drawings to your notes, using the freehand image editor for quick visuals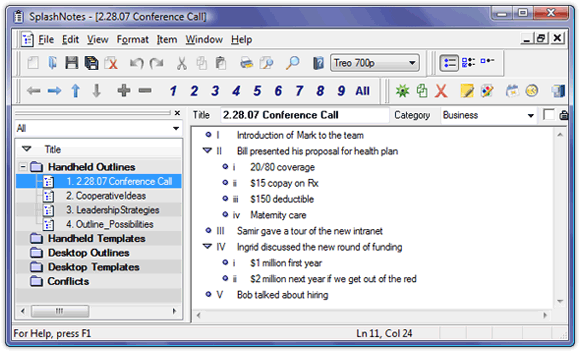 The included desktop software for Windows lets you easily view, edit and synchronize your SplashNotes data with your Handheld. It also offers the ability to import and export MS Word docs.
SplashNotes is used by:
Busy people to stay on top of detailed to do lists

Managers to track projects and people

Teachers and professors to create lesson plans and monitor student progress

Students to take fast, organized notes

Salespeople to stay on top of clients and opportunities

Computer support professionals to create trouble-shooting checklists

Doctors and nurses to create and keep track of patient progress and treatment

Anyone who wants to set goals, plan events, and generally get more organized

Buy now for $29.95 - get SplashData's 60-day money back guarantee

Or click here to download a 15-day trial version


System Requirements

| | |
| --- | --- |
| > | Windows Mobile 5 or later |
| > | 675k of free memory for the application and 100k for the data |
Desktop

---

Subscribe to our eNews and get information about new releases, product updates, and exclusive discounts...