SplashPhoto > Windows Mobile > Download | Purchase | Release Notes | User Guide |  FAQ
---

$29.95

Updated UI for more finger friendly navigation of views
Tree View to see all your photos in a familiar file system format
Share images with others on Picasa, Flickr and Facebook
Support for JPG, TIFF, GIF, and BMP
"I can't believe how much faster and easier SplashPhoto is than the software that came with my phone."


Multiple views make it easy to organize your photos


Upload images to the web with Picasa, Flickr & Facebook

Download images from Picasa, Flickr & Facebook

Zoom in on photos to get more detail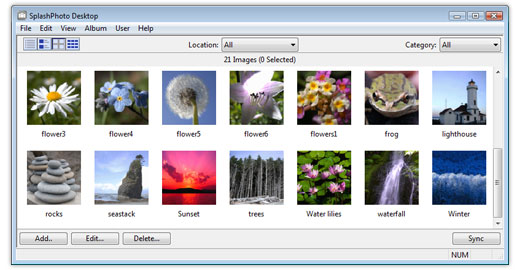 The included desktop software lets you easily edit (crop, zoom, rotate, contrast, brightness)
and organize images and synchronize the desktop catalog with your handheld.
Key Features:
Best-selling photo software for PDAs and Smartphones
Show images individually or in a slide show with transitions
Up to 80% faster than built-in photo software on most devices
Read images from memory cards taken directly from a digital camera
Send images to other mobile devices via infrared, Bluetooth, or email (where supported)
Pan and zoom on your handheld or smartphone

Buy now for $29.95 - get SplashData's 60-day money back guarantee

Or click here to download a 30-day trial version

Best Value: Purchase SplashPhoto as part of the SplashWallet Suite and save $30!
Awards:
2006 Handango: "5 Stars"
2006 PalmGear.com: "5 Stars"
2006 Tucows.com: "5 Cows"
2006 Smartphone & Pocket PC Magazine: Nominee "Best Software Awards"
2004 Handango Champion Awards: Winner "Best Lifestyle Application"
2004 PalmGear.com Voter's Choice: "Best Image/Photo Software"
---
Reviews:
"The one powerful feature that originally swayed me to SplashPhoto and that sets it apart from many other viewers is the included desktop interface that provides you with the ability to quickly format photos for your PDA." - Geek.com review
"If you have any interest in digital photography at all, as either a personal pastime or a business tool then SplashData on your Pocket PC is recommended for fun, work or both. " - Michael Harrison, BargainPDA.com
"I've been using SplashPhoto since 2002 on both Palm and PPC devices, and it's always been one of my favorite applications. It's faster and more intuitive than other photo apps." – Mike Nemens from Gualala, CA
---
Supported Devices:
FujitsuSiemens Pocket Loox 718,FujitsuSiemens Pocket Loox 720,Fujitsu Pocket Loox C550,Fujitsu Pocket Loox N500,Fujitsu Pocket Loox N520,Fujitsu Pocket Loox N560,Fujitsu Pocket Loox T810,Fujitsu Pocket Loox T830,O2 Xda Trion,T-Mobile MDA Vario II,Dell Axim X50,Dell Axim X50v,HP iPAQ rw6815,Grundig GR980,Mio P550,i-mate JASJAM,HTC P3600,HTC P3300,Orange SPV M3100,HP iPAQ hx2700 Series,HP iPAQ hx2400 Series,BenQ P51,HP iPAQ hx2100 Series,Samsung i760,Verizon XV6800,T-Mobile MDA Compact III,HP iPAQ rx5915 (5.0),O2 Xda Orbit,E-TEN Glofiish X500,Qtek 9090,Dopod 838 Pro (5.0),Palm Treo 750 ,HTC P4350,Siemens SX66,HP iPAQ rx4240,HP iPAQ rx5935,Motorola MPx,Mio P350,Acer n310,E-Plus PDA IV ,i-mate PDA2k,i-mate JAM,T-Mobile Ameo,Vodafone VPA Compact GPS,Mobile Assistant XPA S200,HP iPAQ hx4700,Asus P535,E-TEN Glofiish M700,Grundig GR660,Qtek S100,HTC P3350,HTC Advantage X7500/7501,O2 Xda IIs,T-Mobile MDA Compact,i-mate JAQ3,i-mate PDAL,HP iPAQ rx5700,Dopod D810,HTC Wizard,HTC P4300,Acer n300,Samsung i710,Garmin iQue M5,Alltel HTC PPC6800 ,O2 Xda II mini,HP iPAQ rx5900,HTC Touch,O2 Xda IIi,T-Mobile Wing,Inventec K871,Sprint HTC Mogul,HTC Mogul,Vodafone v1640,Vodafone v1605,HP iPAQ hw6500 Series,Vodafone VPA Compact III,Vodafone VPA Compact S,Orange SPV M700,T-Mobile MDA Touch,O2 Xda Nova,O2 Xda Terra,i-mate PDA-N,i-mate JAQ,HP iPAQ h6320/6325,i-mate JAMA,Asus MyPal A632,Asus MyPal A730W,Samsung i830,Dopod M700,Audiovox PPC 6700 (5.0),Dopod C800,Dopod P800W,Dopod U1000,HTC P6300,Qtek 9000 (5.0),Qtek 9100 (5.0),Qtek S110,Vodafone v1620,T-Mobile MDA Pro (5.0),PPC-6700 (5.0),E-TEN M500,i-mate Jasjar (5.0),i-mate PDA2,AT&T Palm Treo 750,Orange SPV M5000 (5.0),Dopod 700,Dopod 818,HP iPAQ rw6100,Palm Treo 700w (5.0) ,Verizon Palm Treo 700w (5.0),Dell Axim X30,UBiQUiO 401,UBiQUiO 501 ,i-mate K-JAM (5.0),UBiQUiO 503G ,Dopod 838 (5.0),Vodafone VPA Compact,Dell Axim X51v (5.0),Alltel UTStarcom PPC6700,Alltel Palm Treo 700wx,HP iPAQ rx3115,HP iPAQ rx3415,HP iPAQ rx3715,Verizon Palm Treo 700wx,Sprint Palm Treo 700wx,HP iPAQ rx1950 Series (5.0),Sprint IP-830W,Verizon Samsung i760,LG KS20,Pharos GPS Phone 600,Pharos Traveler GPS 525+,HTC TyTN II,AT&T Tilt,Verizon XV6700 (5.0),Sprint HTC Touch,Pharos Traveler 535,i-mate Ultimate 6150,i-mate Ultimate 8150,HTC Touch Dual,O2 Xda Exec (5.0),Fujitsu Siemens Pocket Loox,Dell Axim X51 (5.0),HP iPAQ 110,Toshiba e830,O2 Xda Atom (5.0),T-Mobile MDA Vario (5.0),E-TEN M600 (5.0),AT&T / Cingular 8125 (5.0),O2 Xda mini s (5.0),HP iPAQ hw6900 series (5.0),T-Mobile MDA (5.0),Dopod 900 (5.0),Acer n311 (5.0),Dopod 818 Pro (5.0),Vodafone VPA Compact II (5.0),Vodafone VPA IV (5.0),E-Plus PDA III,E-Plus Pocket PDA (5.0),HP iPAQ hx4705,HP iPAQ rz1710,HP iPAQ rz1715,Asus MyPal A636 (5.0),i-mate JAMin (5.0),Mio A201,Mio A701,O2 Xda III,Qtek S200 (5.0),Acer n50,NEC MobilePro 250e,Garmin iQue M3,Orange SPV M3000 (5.0),E-TEN G500 (5.0),T-Mobile MDA Compact II (5.0),Qtek G100 (5.0),Orange SPV M600 (5.0),Symbol MC9000-G Series,T-Mobile MDA II,O2 Xda Neo (5.0),HP iPAQ hx2100 Series (5.0),HP iPAQ hx2400 Series (5.0),HP iPAQ hx2700 Series (5.0),HP iPAQ hx4700 (5.0),HP iPAQ hx4705 (5.0),HP iPAQ hw6510,HP iPAQ hw6515,HP iPAQ rw6828,HTC TyTN,Asus P525,Samsung i750,Asus MyPal A639 (5.0),Palm Treo 700wx,Qtek 9600,AT&T / Cingular 8525 (5.0),Palm Treo 750v,FujitsuSiemens Pocket Loox 710, Treo 800w, Treo Pro, Samsung Omnia, HTC Diamond, HTC Diamond2, HTC Pure, HTC HD2, Samsung Omnia II, AT&T Tilt2, HTC Imagio, T-Mobile Dash, Pantech Duo, HTC Touch
---
Other Editions Available: