SplashID > Standalone > Download | Purchase | Release Notes | User Guide |  FAQ
---
Please find the latest versions of SplashID Safe at www. splashid.com
---
Download SplashID version 6 now:

• Never forget a username or password again - ever
• Secure and backup your passwords, credit card numbers, registration codes, PINs, and more
• Generate truly random passwords hackers cannot guess
• Protect yourself from identity theft, keyloggers, and phishing
• Best selling password manager with over 1 million users
---
Key SplashID password management software features and benefits:
• Flexible: Unlimited number of customizable record types and categories for storing all kinds of passwords and personal information
• Customizable: Definable list views, support for custom icons and field labels
• Secure: Unbreakable AES and 256-bit Blowfish encryption provides proven protection for safe password management; secure field masking offers additional protection for sensitive data like passwords; automatic password generator feature creates un-guessable passwords and prevents the security risk of using the same passwords repeatedly
• Expandable and Portable: Synchronize data between the desktop software and a handheld client for multiple platforms - iPhone, iPad, Android, and BlackBerry.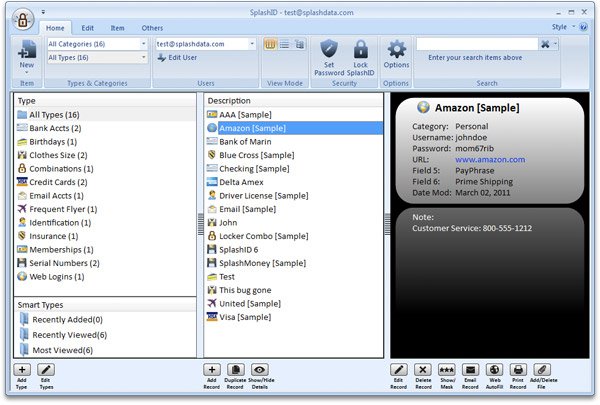 Windows Application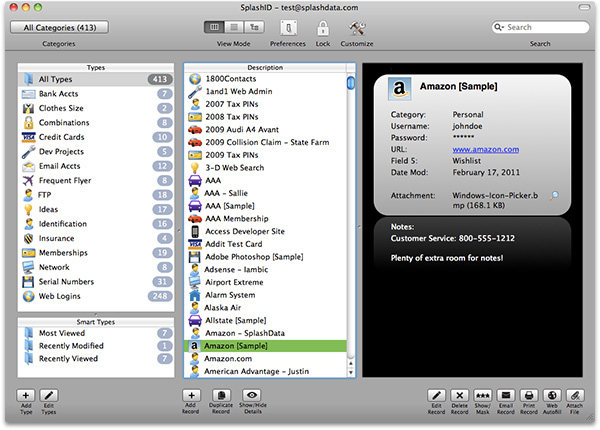 Mac OS Application
SplashID Safe for Windows and Mac OS lets you easily view and edit your sensitive personal information on your desktop computer and synchronize with your iPhone - wirelessly. Now you can also sync the same data with an Android phone, iPad and/or a BlackBerry version of SplashID!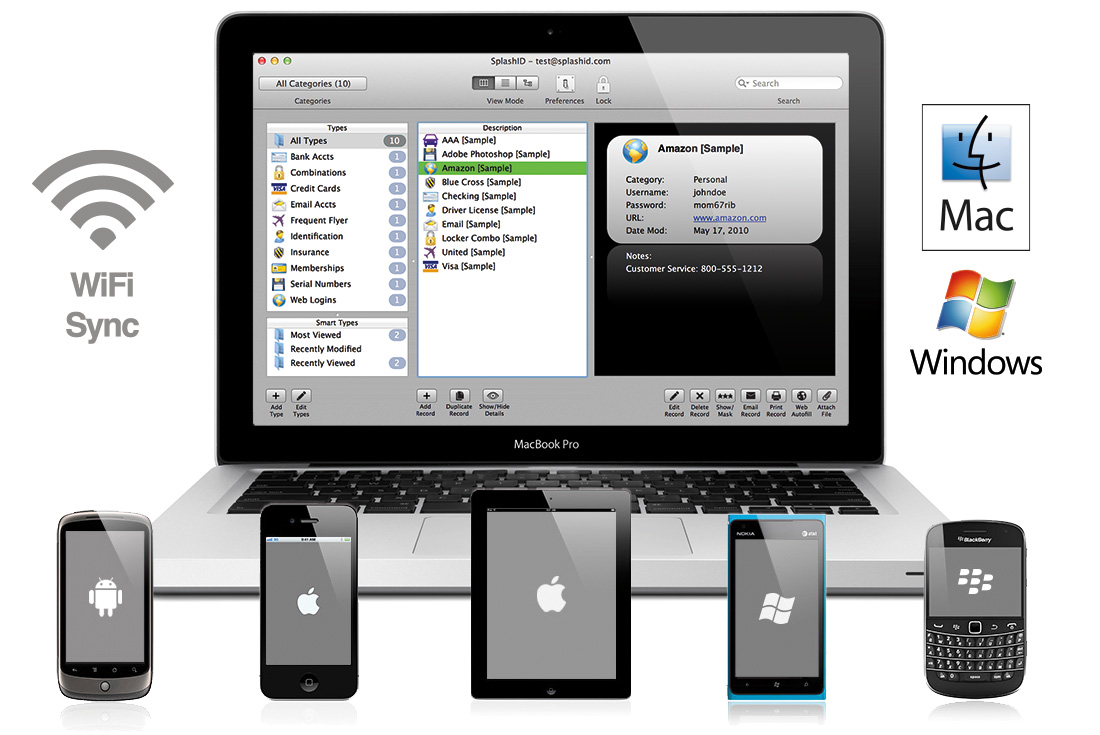 Key Features:
• Unified desktop synchronizes with Android, iOS, Windows Phone, and BlackBerry - wirelessly!
• SplashID Safe utilizes dual encryption with both 256-bit AES and 256-bit Blowfish layers, reducing the security risks for those that tend to use the same or similar passwords across multiple accounts
• Flexible and customizable to handle unlimited data or passwords

• Generate and remember truly random secure passwords with the built-in password generator

• Easily customizable with changeable list views and icons available

• Additional features include improved data copying and a de-dupe tool that helps users find and eliminate duplicate records.

• A new search view presents a cleaner design that loads results faster

• New companion desktop applications, SplashID Safe for Windows and SplashID Safe for Mac, feature a redesigned user interface and improved ease of use with new buttons, information panes, tips, and a customizable toolbar

• Reminders help users remember passwords that need to be changed or upcoming credit card expiration dates.

• An advanced login option on the desktop creates an alternative to the traditional alphanumeric password by enabling users to trace a pattern using their mouse or finger on touchscreen devices.

• Field masking is an optional feature that disguises passwords from passersby.
• Unlimited number of customizable record types and categories for storing all kinds of confidential information (usernames, passwords, bank accounts, credit cards, registrations, insurance, perscriptions, and more)
• Clickable URLs provide easy access to your web logins (desktop auto-fills logins for you!)
• Share records with other SplashID users
What makes SplashID password management software different?
• SplashID is the clear market leader in password management and security software, with over 200,000 active users worldwide
• SplashID has been adopted by government agencies, technology companies, investment banks, research labs, and other organizations needing a comprehensive password security solution
• SplashID offers support for both Windows and Macintosh desktop platforms and synchronizes seamlessly with mobile platforms as well, including iPhone, iPad, Android, and BlackBerry
• SplashID offers the industry's strongest money back guarantee – 60 days, unconditional, no questions asked, 100% refund