The ultimate list manager for Mobile Devices, Windows & Mac OS


Are you highly organized? Or maybe you're looking for a way to get there? You need SplashShopper, the ultimate smart list manager that you can take with you. Manage your lists of groceries, gifts, to do's, wines, music, movies, and more! Track prices and locations. Easily manage and synchronize lists on your smartphone/PDA and desktop computer with the included Windows and Mac OS companion software.
"I can't imagine going out to the grocery store without SplashShopper."


Mark items needed with the cart icon in the All View



Quickly generate memorized shopping lists with QuickLists


The Need View displays only the items that are needed

Quickly enter Item details using auto-fill and popup menus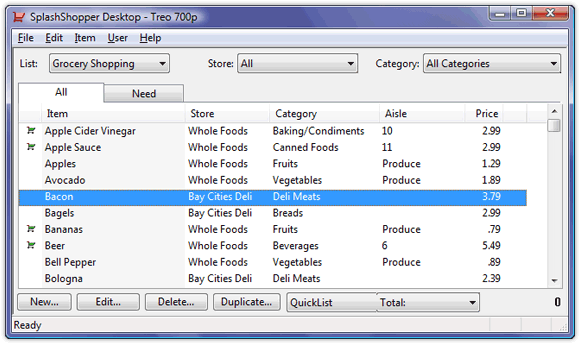 The included desktop software for Windows and Macintosh lets you easily view, edit, print and synchronize your shopping lists with your Handheld.
Key Features:
Ultimate shopping list manager for PDAs and Smartphones
Create an unlimited number of shopping lists each with different categories, custom fields and icons
Supports Hi-Res displays and fonts, including landscape screens
Treo and Tungsten 5-way nav and Sony jog-dial support
Quickly enter items using auto-fill
Assign Items to multiple stores & track per-store prices
Customize the column display, row coloring and sort order for each list
Create cross-platform vShop files for sharing customized SplashShopper lists with other users
Beam Lists and Items (where supported)
Navigate lists using hardware buttons

Buy now for $29.95 - get SplashData's 60-day money back guarantee

Or click here to download a 30-day trial version

Best Value: Purchase SplashShopper as part of the SplashWallet Suite and save 50%!

Awards:
2006 Handango: "5 Stars"
2006 PalmGear.com: "5 Stars"
2006 Tucows.com: "5 Cows"
---
Reviews:
"I can't imagine now going grocery shopping with out SplashShopper; it's a great way to make a mundane chore fun. It has proven its worth to be my wife and me. With its possibilities for making other lists besides shopping, I see this program as an essential to any handheld user." – Joshua Burdick, PalmAddicts
"I wasn't sure if I was going to use this program so I downloaded the trial version. Being a stay at home mom and in charge of all the shopping, I used it everyday! I love the separate lists that I can create (one for things I get weekly, one for movies I want to see, one to keep track of kids clothes sizes, etc.). I can keep the items on the need page even when I check them off." – User from Monroe, GA
"This program is excellent! Use it to plan your next shopping errand. This makes it easy to stick to your budget and most importantly, you leave the store with everything that you planned to get. No more forgetting. Thank you for thinking of this." – Paule Joyner, PalmGear
---
Supported Palm OS devices:
Palm Centro

Treo 600, 650, 680, 700p, 755p

Palm TX, LifeDrive

Palm Tungsten T, T2, E, E2, C, W, T3, T5

Palm Zire, Zire 71, Zire 72, Z22

Palm m500, m505, m515

Palm m100, m105, m125, m130

Garmin iQue 3200, 3600

Sony CLIE NX Series

Sony CLIE NR Series

Sony CLIE UX Series

Sony CLIE TG Series

Sony CLIE SL Series

Sony CLIE T Series

Sony CLIE SJ Series

Sony CLIE NZ Series

Sony CLIE N Series


System Requirements

| | |
| --- | --- |
| > | Palm OS 3.1 or later, such as Treo 600, Treo 650, Treo 680, Treo 700p, Treo 755p and Centro |
| > | 300k of free memory for the application and 20k for the data |
Desktop


| | |
| --- | --- |
| > | Mac OS 10.2, 10.3, 10.4, 10.5 & 10.6 |
| > | Palm OS version only; Windows Mobile versions of SplashShopper synch only with Windows desktop |