The ultimate list manager for iOS devices, Windows & Mac OS
| | |
| --- | --- |
| | Are you highly organized? Or maybe you're looking for a way to get there? You need SplashShopper, the ultimate smart list manager that you can take with you. Manage your lists of groceries, gifts, to do items, wines, music, movies, and more! Track prices and locations. Easily manage and synchronize lists on your iPhone or iPod Touch with the Windows or Mac OS companion software. |
"I can't imagine going out to the grocery store without SplashShopper."

In the All View, you can mark items as needed, track the total cost, and sort by any column such as aisle number

The Need View displays only the items that are needed; check items off as you add them to your shopping cart
Get the handheld software in the App Store...
Get the desktop software with wireless synchronization from us!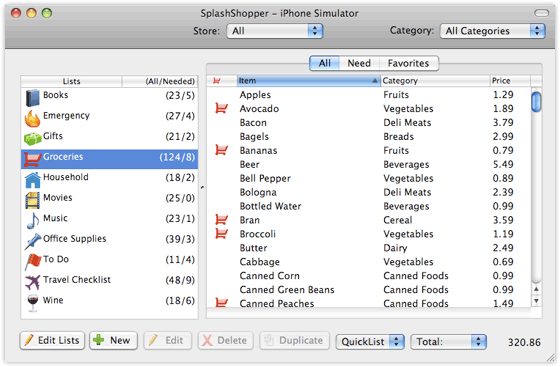 The SplashShopper Desktop for Windows and Mac OS lets you easily view and edit your lists, and - best of all - synchronize with your iPhone - via Wi-Fi!
Key Features:
Create an unlimited number of shopping lists each with different categories, custom fields and icons
Assign Items to multiple stores & track per-store prices
Create cross-platform vShop files for sharing customized SplashShopper lists with other users
Sync wirelessly with your SplashShopper desktop

iPhone & iPod touch software for $4.99 and desktop software for $9.95
Get SplashData's 60-day money back guarantee

---
Reviews:
| | |
| --- | --- |
| | "SplashShopper makes shopping easier and rather exciting. Also there is an option to create multiple lists, which makes it easier to organize all things. SplashShopper software is very simple and easy to use and also has many options like checking current prices and following the budget that makes it worth buying. SplashShopper makes it possible to buy everything that the user has planned without missing out anything." Full Review |
Recommended by DailyFinance
"I can't imagine now going grocery shopping with out SplashShopper; it's a great way to make a mundane chore fun. It has proven its worth to be my wife and me. With its possibilities for making other lists besides shopping, I see this program as an essential to any handheld user." – Joshua Burdick, PalmAddicts
"I wasn't sure if I was going to use this program so I downloaded the trial version. Being a stay at home mom and in charge of all the shopping, I used it everyday! I love the separate lists that I can create (one for things I get weekly, one for movies I want to see, one to keep track of kids clothes sizes, etc.). I can keep the items on the need page even when I check them off." – User from Monroe, GA
"This program is excellent! Use it to plan your next shopping errand. This makes it easy to stick to your budget and most importantly, you leave the store with everything that you planned to get. No more forgetting. Thank you for thinking of this." – Paule Joyner, PalmGear
---
Apple, the Apple logo, iPod, and iTunes are trademarks of Apple Inc., registered in the U.S. and other countries. iPhone is a trademark of Apple Inc.