The ultimate list manager for Smartphones, PDAs and Desktops
Send download via SMS or email to your phone:
Other versions available:
30-day Trial and Registered versions are the same
SplashPhoto will run for 30-days in full-functioning Trial mode. The Trial software and Registered software are identical. Once the trial period ends you must purchase a registration code to continue using the software. You do not need to re-install the software. Simply enter the registration code and your Trial version will be converted into a Registered version.
Download Instructions
Click the Download button for the product installer you wish to download.
When prompted with the "File Download" dialog box, select "Save this program to disk" and save it in a place you are sure to remember, like your Desktop.
After the file has finished downloading, launch the Installer from your desktop and follow the onscreen instructions.
You will need to connect your device to complete the installation.
Crossgrading
If you purchased a license for SplashShopper on a different platform (eg. Palm OS), you are eligible to "crossgrade" to SplashShopper for Windows Mobile for only $9.95: SplashShopper Crossgrade
To import your data from the Palm OS version, follow these instructions.

System Requirements

| | |
| --- | --- |
| > | Windows Mobile Smartphone 2003 or later |
| > | 200k of free memory |
Desktop

| | |
| --- | --- |
| > | Windows 98, ME, NT4, 2000, XP or Vista |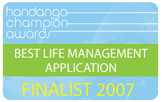 ---

Subscribe to our eNews and get information about new releases, product updates, and exclusive discounts...